Denis Šketako: A Practical Success Story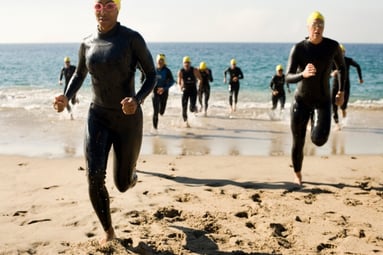 Denis Šketako is a Slovenian triathlete that Moxy has recently begun sponsoring. He has been using Moxy with his trainer, Sašo Rupnik, for the past two years. Here is a short email interview with Denis that tells us a little bit more about him and how Moxy fits into his training.
Denis also made a video that shows how he uses Moxy, which you can check out here.
1. How did you get interested in the sport of Triathlon, and at what distances do you compete?
I have been training for basketball at local club for 14 years, but I couldn't see the opportunity for being a professional athlete in that environment, so I decided to find new challenges. Working as a lifeguard for a couple of years, I learned to swim pretty well. I also started with some recreational cycling. One day, the word "Ironman" randomly came to my attention, and I just couldn't get it out of my mind. I got beaten by the curiosity and decided to give it a go. In 2011, I finished my first Ironman at the age of 21 in 10h 20min, and last year I finished it in 8h 27min.
There are many variations of Triathlon competitions, depending on the length of each discipline. I find my best performance at long distances, i.e. a full Ironman: 3.8 km swim + 180 km bike + 42 km run. To prepare for these races, I sometimes also compete in a half-distance Ironman called Ironman 70.3.
2. How do you feel about your skills in each of the three disciplines?
The goal is to be superior in all three disciplines. I am a bit handicapped due to my late start in training for this sport, which particularly shows in swimming. I've been working hard over the last year with the help of a swimming coach and made big progress in that area. On the bike and in the run I'm feeling more confident, which can be seen in comparison to top race finishers.
3. How did you come to train with Sašo Rupnik at RS Sports?
I think many will agree that it's not easy to find a good coach. I was very lucky to meet Sašo in the beginning of my triathlon career. We established good communication, even though we don't see each other often due to distance barriers. I like his training methods, so I'm happy to work with him.
4. When did you decide to include Moxy in your training, and what drove this decision?
Two years ago we used Moxy for my stamina testing. We saw I could train more efficiently using Moxy because information gained from power meter, heart rate and run pace aren't sufficient enough.
5. How do you use Moxy to guide your training?
I start every bike and run training with a mini-regeneration test in regard to SmO₂ and tHb, so I can notice during warm up how well my body regenerated since the last training; if every parameter is not on the proper value, I adjust intensity a bit. I use Moxy in combination with heart rate, power meter and run tempo to accurately set training intensity, number of repetitions, length of intervals and other important values.
6. Your Ironman distance times have improved dramatically over past races. How has Moxy contributed to this improvement?
I'm positive use of Moxy has contributed a lot to my improvement mostly because I can adapt my trainings instantly. I think it's not correct to train according to results from tests done months ago. What fascinates me the most about Moxy is that I and my coach can see the results during the training and we can react to change the plan for the very next day, we don't have to wait for another testing to verify improvements. This has made our testing and training procedure easier to cope with. I think everyone who wants to make maximum improvement should start using Moxy.
7. What was the most interesting thing you learned after incorporating Muscle Oxygen Monitoring into your training?
You can get a lot more feedback from using Moxy than from classic VO2 or lactate tests.
8. What is your training regimen like right now?
Currently I'm on Gran Canaria, Spain, for a five-week training camp. I'm here for the fifth year in a row. I find weather conditions ideal for doing high-intensity trainings. My daily routine includes around six hours of training, with a combination of swimming, cycling and running.
9. What are the biggest training challenges that you currently face?
It's in every athlete's awareness that you need to be healthy in order to train and race. I'm trying to find the right balance of physical strength and inner spirit in order to perform the best.
10. What are your goals for 2016?
I'm happy to visit the continent where Triathlon started, America. In April and May I'll join three races, and my goals are to finish inside the top ten. I also would like to improve my personal time record from Barcelona. The rest of the season I'll compete in Europe.
11. What does your race schedule look like?
A day before the race I do short trainings in all three disciplines, and in the evening I take the bike to the transit area. I then have a big dinner and take an early dive to the bed, because races usually start at 7 AM.
Upcoming Races:
USA
April 10 - NEW ORLEANS (half Ironman)
April 17 - TEXAS (half Ironman)
May 14 - TEXAS (long Ironman)
EUROPE
TBD