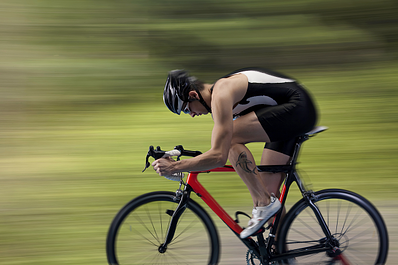 Every year at the Kona World Ironman Championships, triathletes must specify what equipment they are using, and over the past five years, organizers have seen a significant increase in the use of power meters. In 2009, just 259 power meters were installed over 1,481 bikes. This year, the number grew to 710 power meters over the 2,022 bikes that attended. This means that while the number of triathletes only grew by 36 percent, the use of power meters increased by 174 percent.
The History of the Power Meter
The power meter has existed since 1896, when Elisée Bouny attached a mechanical brake to the rear wheel of his bike, just 11 years after the first competition on bicycles, a 0.75 mile event held in Parc de Saint-Cloud in Paris. Power meters, however, did not come into general usage until the SRM (still one of the most popular models), PowerPacer, and LOOK Max One were created between the early-to-mid 1980s. At this point, it became possible to measure a cyclist's power outdoors on a regular basis.
Power meters were then quickly adopted by professional cyclists, coaches, federations, and trade teams. In 1994, the entire US National Team at the Tour du Pont used a power meter, and the power meter was used for the first time in a mountain bike race at the Atlanta Olympic course in 1995. Data from the Australian Institute of Sport also discovered that use of the device among elite athletes began in the early 1990s and increased during the lead up to the Sydney Olympics in 2000.
Unfortunately, high costs made it difficult for other types of cyclists to use a power meter, and those with experience winning races using such a device were not willing to share their secrets. This meant that, for a long time, information about how to best use a power meter for training was not widely available.
Broad-Based Popularity
The situation changed in 1999 when the PowerTap was released. The device was initially given to cycling coach and author Joe Friel, who worked with it for several months and used his experience to write a short manual called Training with Power, which was included with every PowerTap power meter.
A few other factors also helped to spur the power meter's popularity. One was the setting up of an online discussion forum, Wattage, to allow cyclists of all types to share their experiences and tips for using a power meter. Another was the decision to offer a certificate in power-based training to all coaches licensed by USA Cycling. Since the inception of this certification program in 2005, around 100 coaches attend the two-day seminars every year.
Today, with new companies entering the market and driving down costs, power meters are becoming ever more available to all kinds of cyclists. There are almost a dozen models on the market used by up to one-third of cyclists in local events, and the number increases with more elite races. With such wide usage of these devices, power meters can now be called mainstream.