Moxy Trends at ACSM
We exhibited Moxy at the ACSM Annual Meeting last week and Moxy was everywhere. There were two clear trends.
First, muscle oxygen monitoring has become broadly accepted as a research tool and because of Moxy's accuracy we are leading the charge. There were at least 12 presentations that prominently included Moxy data which is far more than all of the other research and commercial NIRS devices combined. The level of integration of Moxy and the excitement for the new information it provides was a pleasant affirmation that we've brought a revolutionary technology to this demanding market.
The presentation topics covered a wide range, including blood flow restriction, fatigue, performance in the heat, and many more. In one presentation that I attended, the Q&A session was active with audience members asking questions and making comments regarding the muscle oxygen data and its interpretation. After speaking with dozens of researchers at our booth it turns out there is incredible work being done using Moxy data on a scale that I wouldn't have imagined even a couple years ago – quality and accuracy matter.
We have attended the Annual Meeting for the past six years. The nature of our discussions about Moxy has evolved from talk about validation and what it measures to more practical topics such as acquiring the data on a larger scale. This leads to the next trend.
The second exciting trend is the continued integration of Moxy into VO2 measurement device software packages. Our strategy with Moxy is to integrate with leading data collection systems that our customers are already using. This year, researchers told me the Moxy / VO2 integration was of great interest. One user told me that the Moxy / VO2 integration he was using saved him up to 30 minutes per test subject because it eliminated steps in the test protocol to add synchronizing markers while it eliminated the need for careful merging and aligning of data files in post processing.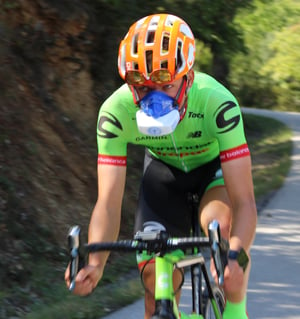 The COSMED K5 software was the first to integrate Moxy data using the ANT+ signal. Now VO2 Master has added this integration into their iOS App using the Moxy5's Bluetooth signal. They've also extended the capability to support up to 3 Moxy sensors at one time. An added bonus of the VO2 Master integration is that the Moxy performs even if you are not using the VO2 Master device. PNOĒ is also very close to releasing a version of their app that supports the Moxy functionality.
Partnering with the leading VO2 companies is important for the continued adoption of muscle oxygen monitoring in research. Researchers have limited time and budgets and dependent on accurate oxygen data – we're proud that they've chosen Moxy. The data integration can allow them to test more subjects in less time with less chance of error or of losing data. It's no coincidence that all of the devices that have integrated Moxy data so far are portable VO2 devices. Moxy allows data to be accurately measure while the athlete is performing their sport in the field and this is where the need for this type of integration is most acute. However, Moxy is also commonly used in lab settings and I anticipate that many of the lab VO2 devices will support data integration in the coming year.
Research is just the beginning of this integration. We've already seen forward thinking trainers like Daniel Crumback explain why he uses Moxy and VO2 together when he assesses athletes. Check out his Webinar here. An exciting integration in this space is that the PerfPro software which is a longtime supporter of Moxy data will also be adding support for the VO2 Master Data. This will make using Moxy and the VO2 Master together in a training studio setting practical and effective.