Meet Staff Physiologist Philip Batterson

Philip Batterson is a staff physiologist for Moxy Monitor. He is finishing a Ph.D. in molecular exercise physiology where he explores how muscles (more specifically mitochondria) adapt to dietary and exercise interventions. His master's degree is in biology where he focused on applied physiology and predictors of endurance performance. This where he first used near-infrared spectroscopy (NIRS) to show that NIRS derived skeletal muscle oxidative capacity was the single best predictor of 40km cycling performance in highly trained cyclists.
Philip's master's studies lead to a great interest in the non-invasive nature of NIRS for monitoring sports performance in real-time and this is where he first learned about Moxy Monitor. Before that, he coached teams at the high school and junior college levels that had success at the national level. All the while competing in endurance sports himself from cross country/track, to rowing, and triathlons.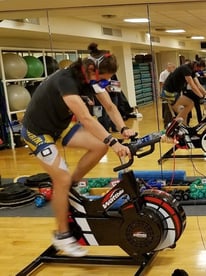 He has worked with Moxy Monitor since 2018 and his specialties revolve around helping individuals understand the physiology behind Moxy Monitor variables. From endurance to team sports, clinicians to researchers, he uses his academic knowledge mixed with his coaching experience to help Moxy users understand the underlying physiology of NIRS.
Philip hears many athletes and coaches say "Oh, just wait until a continuous lactate meter comes out, that will be a game changer!" His response is that "we already have a continuous device that measures something arguably more important for performance – OXYGEN! This is what sets Moxy apart from other physiological monitoring devices, it gives a picture of what is happening to oxygen at the muscle in real-time."
He is currently training for an ultramarathon and he uses Moxy to help guide warm-ups, zone 2 intensity, and interval training. Using the Moxy allows him to precisely know when he is fully warmed-up, where his zone 2 (long slow) threshold is on any given day, how hard to push himself and how much he should rest during intervals.
Philip offers education, assessments, and coaching through his Critical Oxygen Website and he shares his thoughts and expertise on his Oxidative Potential Podcast.
If you are interested in learning more about how Moxy can be used in your application, you can set up a technical consultation with Philip via zoom at this link. Meet with Philip